Public Notice
Residents of The Resort Village of Glen Harbour are invited to attend a Public
Meeting intended to provide input regarding the:
Development Permit Application – Discretionary Use Proposed Campground
Located at SE26-22-23-2
This meeting will take place at the Fred Shtuka Community Center,
Glen Harbour Saskatchewan, at 1:00 pm Saturday April 29, 2017.
Those wishing to appear as delegates are required to make notice and provide written submissions by email or hard copy prior to 6:00 pm Thursday April 27, 2017.
Council will also review written feedback on this proposal submitted by email or hard copy prior to the above noted time.
Issued at Glen Harbour, Saskatchewan, this 22nd day of April, 2017
Kevin Kleckner
Administrator.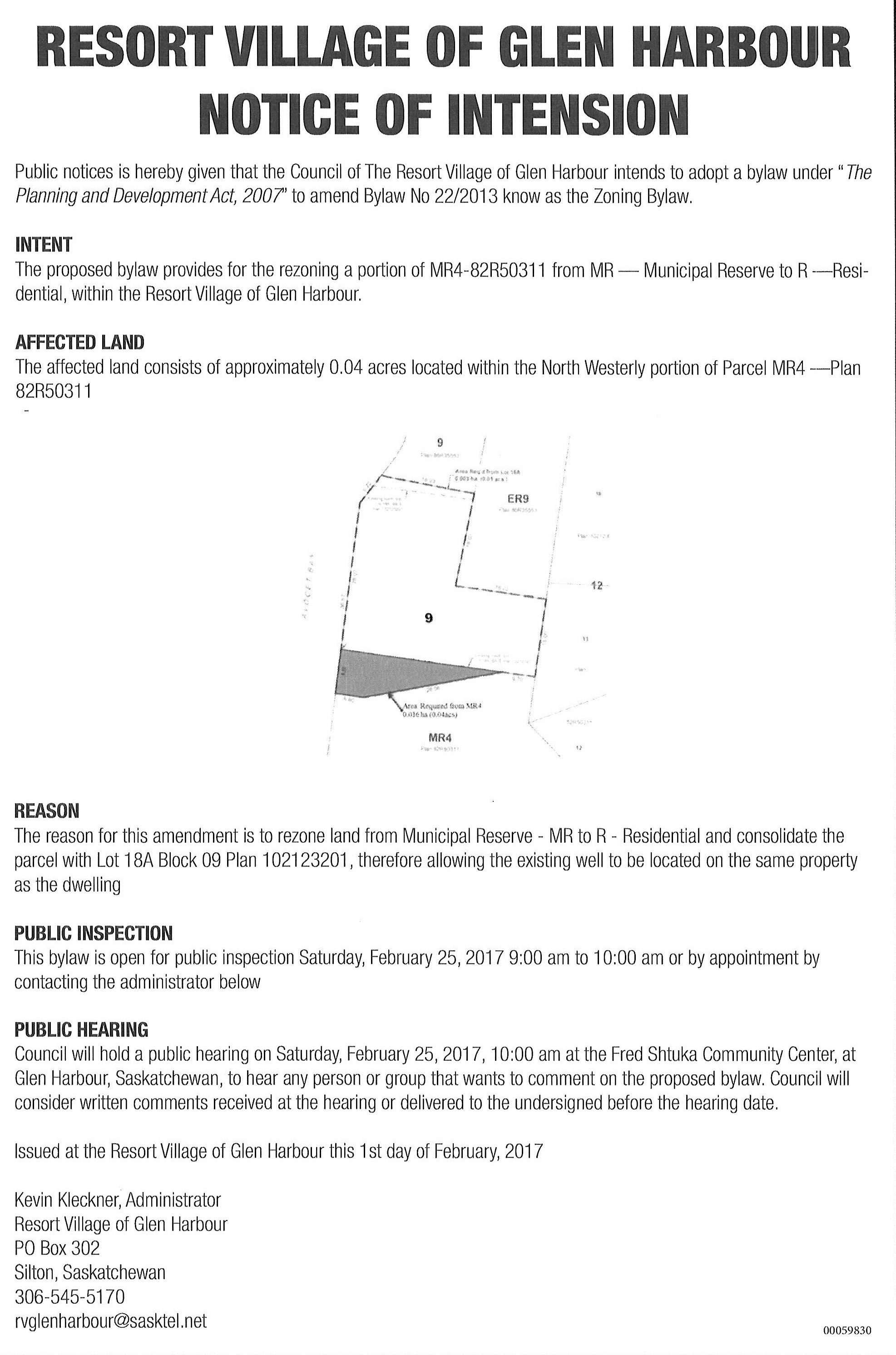 PLEASE NOTE - For this meeting It may be necessary for members of council to participate by electronic means.
Call for Volunteer
Council is seeking a volunteer to assist us with a new design for our web site.
Anyone with experience in web development is asked to drop us a note if you are able to help out.
rvglenharbour@sasktel.net
The Resort Village of Glen Harbour
A friendly community located on Highway 322 Northwest of Regina, Saskatchewan along Last Mountain Lake. The population of the village grows during the summer months although more residents are living here year round due to the easy commute to Regina.

Glen Harbour is a fantastic place to live! Residents and visitors can enjoy the sun, the beach, take a refreshing swim in the lake, visit the playground, have a game of horse-shoes, fish, or water-ski. There are also great golf courses nearby! In winter snowmobiling, ice fishing, and skating are just a few of the outdoor activities!