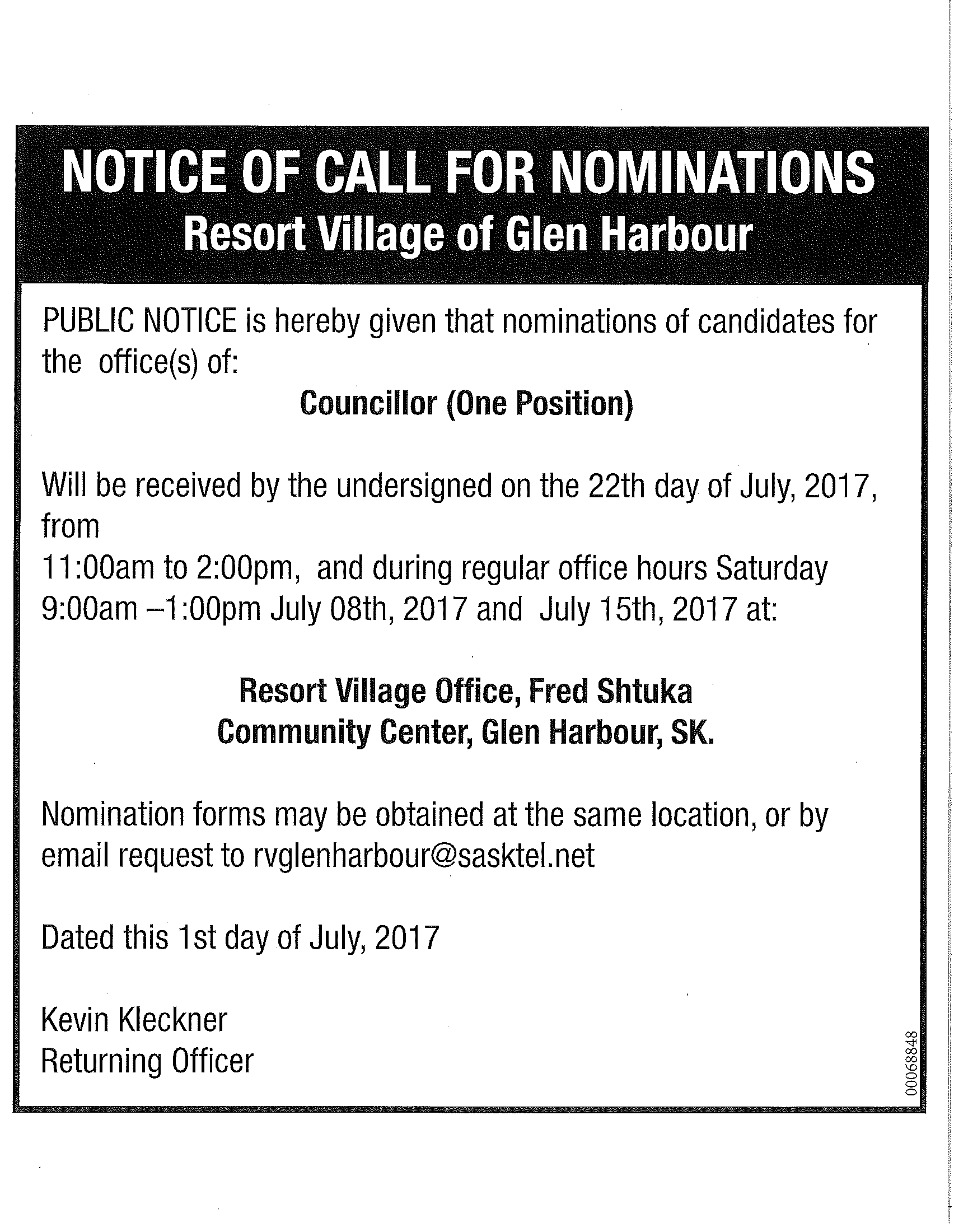 Notice of Council Meeting
Saturday July 22, 2017, 9:30am
Fred Shtuka
Community Center




Resort Village of Glen Harbour – Administrator
The Resort Village of Glen Harbour is accepting applications for a permanent part-time Administrator position. The Village which is located approximately 62 km northwest of Regina on highway 322 along Last Mountain Lake has a population of approximately 320 seasonal/full-time residents.
This position reports directly to Council and is the only employee of Council. As the Administrator you are responsible for the overall administration and financial management of the Village in accordance with policies established by Council, the Municipalities Act and other relevant legislation. Key responsibilities include (but are not limited to) accurate completion and safekeeping of municipal records; competent management of municipal finances; advising Council and making recommendations regarding relevant municipal operations; management of annual assessment and taxation process; and other duties as assigned by Council.
Ideally, applicants will possess a minimum Standard Certificate or an acceptable equivalent combination of education and experience. You will have knowledge of basic accounting practices and procedures, payroll, strong computer skills including proficient use of Microsoft word and excel. You must also have a strong working knowledge of MuniSoft software. You will have strong communication, analytical, public relations, time management and organizational skills and be able to work under strict timelines. You must be able to work with minimal supervision as well as cooperatively with Council, contractors, rate-payers, and members of the public doing municipal business.
Salary and benefits will be dependent on level of education and experience.
Interested applicants are invited to submit their resume by mail or email to:
Tim Selinger, Mayor
Resort Village of Glen Harbour
Box 299
Silton, SK S0G 4L0
Or
For more information regarding this position please contact Tim Selinger, Mayor, Resort Village of Glen Harbour at 306-551-5146.
All candidates are thanked for their interest in the position, only those who are selected for further consideration will be contacted.
Notice of Preparation of Assessment Roll
Resort Village of Glen Harbour
Notice is hereby given that the assessment roll for the Resort Village of Glen Harbour of the year 2016 has been prepared and is open to inspection in the office of the Assessor at The Resort Village Glen Harbour office, Glen Harbour, Saskatchewan.
May 01, 2017 – June 30, 2017 by appointment
Any person who wishes to appeal against his/her assessment to the Board of Revision is required to file his/her complaint(s) in writing with:
The Assessor
Resort Village of Glen Harbour
P.O. Box 302
Silton, Saskatchewan
S0G 4L0
By the 30th day of June 2017
Dated this 28th Day of April, 2017
Kevin Kleckner, Assessor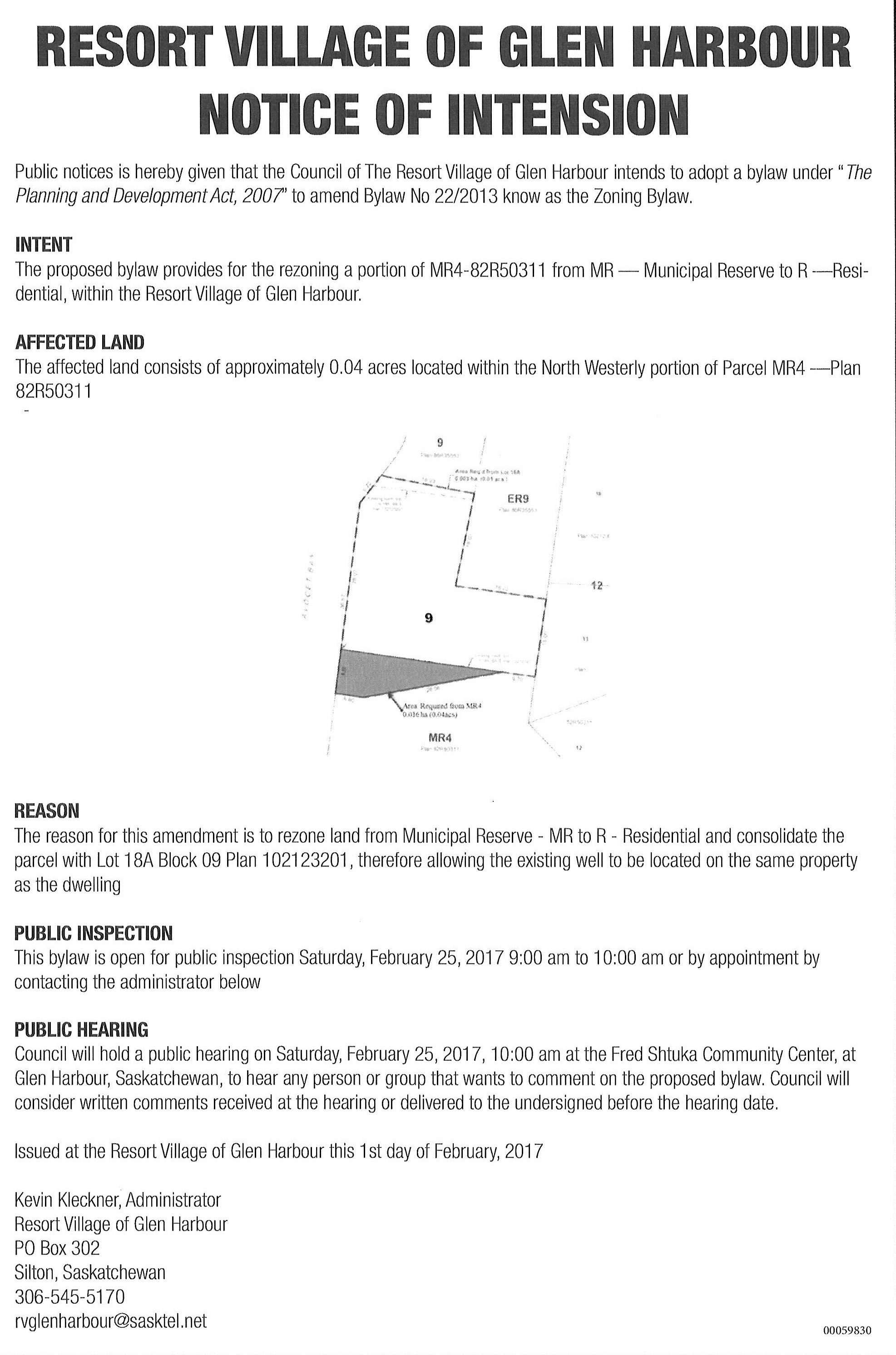 PLEASE NOTE - For this meeting It may be necessary for members of council to participate by electronic means.
Call for Volunteer
Council is seeking a volunteer to assist us with a new design for our web site.
Anyone with experience in web development is asked to drop us a note if you are able to help out.
rvglenharbour@sasktel.net
The Resort Village of Glen Harbour
A friendly community located on Highway 322 Northwest of Regina, Saskatchewan along Last Mountain Lake. The population of the village grows during the summer months although more residents are living here year round due to the easy commute to Regina.

Glen Harbour is a fantastic place to live! Residents and visitors can enjoy the sun, the beach, take a refreshing swim in the lake, visit the playground, have a game of horse-shoes, fish, or water-ski. There are also great golf courses nearby! In winter snowmobiling, ice fishing, and skating are just a few of the outdoor activities!